Awareness Campaign and Demonstration of Organic Products by Skill Up! Project
Created On: April 25, 2021, 3:45 p.m.
Organic Day was organized jointly by Ministry of Agriculture (MOA) in collaboration with development partners including Skill Up! project in Karnali Province Surkhet on 18th February, 2021 (6th Falgun 2077). MOA of Karnali province along with other 23 development partners of this province jointly organized the event taking the action to promote Organic Agriculture in the province. The main slogan of the event was "Promoting Organic Farming, Conserving Indigenous Crops. Karnali Provincial Government provided full support to the partner organizations working in this province to promote organic farming. More than 600 people from different parts of the province participated in the event. In the event, participants were from Skill Up! project, Government officials, other development partners, cooperatives, traders, input suppliers and consumers.
The event was started with an awareness rally with Banners and Play cards, walking around the city of Surkhet. This rally was inaugurated by the Chief Minister of Karnali province. Participants chanted slogans appealing the farmers and consumers to go for green products. The rally started from Mangal Gadhi Choke (Square) and concluded at playground of Birendranagar. More than 600 participants took part in the rally.
Promotional materials were displayed at the event. Skill Up! project demonstrated various organic inputs to promote organic farming and motivated the event participants and visitors towards this campaign. Materials displayed by Skill Up! were organic manure (Bokashi and Jhol Mal), insect bio- traps, brochures and manuals, explanatory rollups, and green products such as cauliflower, cabbage, seedling etc. produced by the Skill Up! farmers participants. The Chief Minister of Province, Minister and Secretary of MOA and all other participants visited and observed the Skill Up! stall.
Photo: Skill Up! Farmers' Field School participants in the rally holding banner of go-green slogans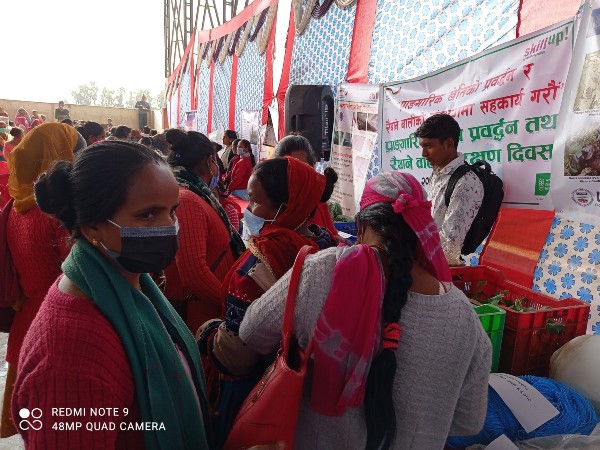 Photo: People are visiting Skill Up! Stall during the event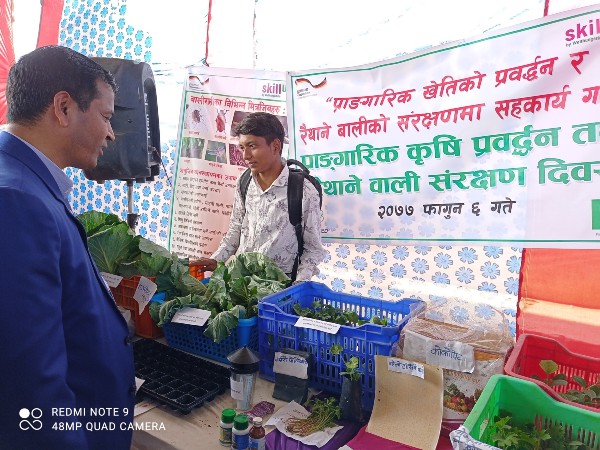 Photo: Chief Minister of Karnali Province observing green products displayed by Skill Up! project at its stall visiting Skill Up! Stall