Mobile training on Vegetable & Poultry production inauguration ceremony at village of Surkhet
Created On: Jan. 10, 2022, 5:51 p.m.
Etheni is a remote village of Surkhet. Dalit are the major population at this place following with Janajati and others. Distance wise Etheni is not very far from provincial capital Birendranagar but almost entire people are struggling for their two time food. In this background Jana Jyoti school and Skill Up! project decided to run a 60 days (300 hours) training on poultry production at their place because they were interested in poultry business to make their regular income. Hence, on 25th March 2021, a training opening ceremony was organised at the place where 25 participants were selected and started their training.
Likewise, Salapur is another village where Janajyoti School started the commercial vegetable training to the interested 26 youths of local community with the technical & financial support of Skill Up! project. The training started on 24th March 2021.
Shree JanJyoti Secondary School

Technical Education In Community School (TECS)

Barahatal Rural Municipality ,5 Surkhet

Skill Of Project Short Term Training

Trade : Poultry Farming

Training Days :60

Participants list

S.N

Students Name

Address

Gender

Age

Cast

Contact

Remarks

1

Dhane damai

Barahatal -6

Male

45

Dalit

9868392594

2

Kokila b k

Barahatal -6

Female

24

Dalit

9865248728

3

Gaura gaha magar

Barahatal -6

Female

21

Janajati

9868043926

4

Nandakala b k

Barahatal -6

Female

38

Dalit

9867748211

5

Mina sunar

Barahatal -6

Female

17

Dalit

9868264720

6

Mira tamaga

Barahatal -6

Female

29

Janajati

9865548538

7

Dhirja b k

Barahatal -6

Female

35

Dalit

9848330804

8

Amrita b k (ka)

Barahatal -6

Female

27

Dalit

9848195646

9

Gagan sara nepali

Barahatal -6

Female

29

Dalit

9848242182

10

Bima b k

Barahatal -6

Female

19

Dalit

9849771685

11

Bimala pariyar

Barahatal -6

Female

21

Dalit

12

Anita b k

Barahatal -6

Female

35

Dalit

13

Shanta pariyar

Barahatal -6

Female

17

Dalit

9865922897

14

Pushpa shahi

Barahatal -6

Female

24

Kshetri

9868115526

15

Kala b k

Barahatal -6

Female

35

Dalit

16

Devi b k

Barahatal -6

Female

18

Dalit

17

Dhanmaya salami

Barahatal -6

Female

18

Janajati

9865249263

18

Jarma kami

Barahatal -6

Female

32

Dalit

9865081804

19

Dilmaya gaha

Barahatal -6

Female

22

Janajati

9864947464

20

Amrita b k (kha)

Barahatal -6

Female

25

Dalit

9844865432

21

Sarita kumari ramjali magar

Barahatal -6

Female

25

Janajati

22

Jaisara namjali

Barahatal -6

Female

21

Janajati

9863162442

23

Bhimala b k

Barahatal -6

Female

32

Dalit

24

Devi sara damai

Barahatal -6

Female

45

Dalit

9844663528

25

Nani kami

Barahatal -6

Female

45

Dalit

9868272766
]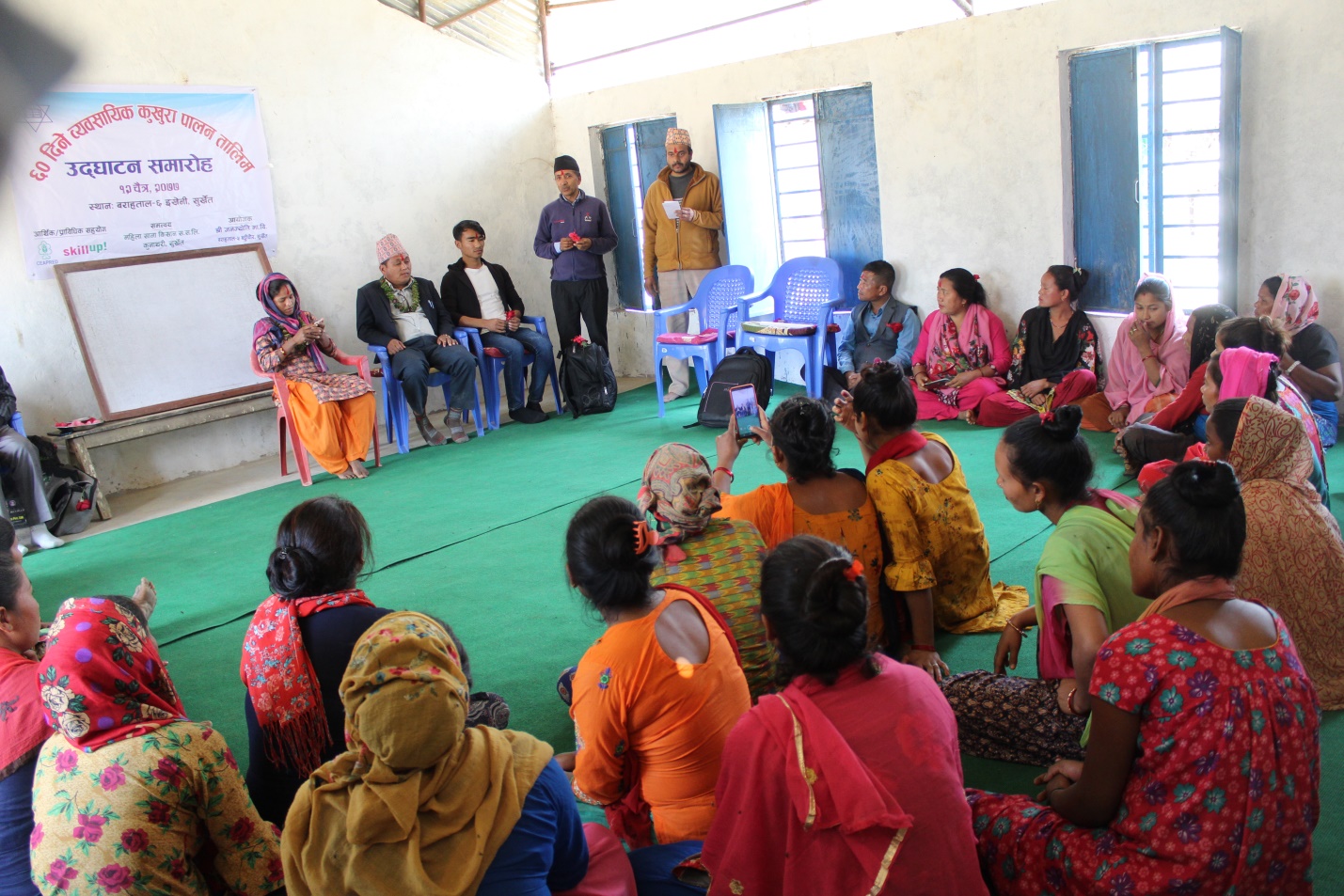 Introduction and Orientation session to the participants of Poultry Training
Shree JanJyoti Secondary School

Technical Education In Community School (TECS)

Barahatal Rural Municipality ,5 Surkhet

Skill Of Project Short Term Training

Trade : Commercial Vegetable Production

Training days :60

Participants list

S.N

Students Name

Address

Gender

Age

Cast

Contact

Remarks

1

Prashanta rawat

Barahatal - 6

Male

27

Kshetri

9864055013

2

Rupa devi bhudha

Barahatal - 6

Female

33

Kshetri

9849768755

3

Bhabisara rawat

Barahatal - 6

Female

31

Kshetri

9847804220

4

Bachukala bhudha

Barahatal - 6

Female

29

Kshetri

9867765691

5

Tikadevi b c

Barahatal - 6

Female

30

Kshetri

9844898271

6

Sabitri kumari regmi

Barahatal - 6

Female

42

Bramanar

9848169038

7

Ramrupi rokaya

Barahatal - 6

Female

45

Kshetri

9847598701

8

Parbati rokaya

Barahatal - 6

Female

25

Kshetri

9849770336

9

Kaushila budha

Barahatal - 6

Female

45

Kshetri

9849359211

10

Kaluram bhudha

Barahatal - 6

Male

38

Kshetri

9841847889

11

Bishna rawat

Barahatal - 6

Female

33

Kshetri

9848106447

12

Bijayaram Sharma

Barahatal - 6

Male

45

Kshetri

9866214735

13

Shushila kumari b c

Barahatal - 6

Female

33

Kshetri

9848287106

14

Resham kali rawat

Barahatal - 6

Female

33

Kshetri

9868599871

15

Surja rawat

Barahatal - 6

Female

30

Kshetri

9866637552

16

Naurati budha

Barahatal - 6

Female

45

Kshetri

9868655892

17

Durga prasad sharma

Barahatal - 6

Male

26

Bramanar

9865601595

18

Bhima budha

Barahatal - 6

Female

35

Kshetri

9848292642

19

Uma kumari khadka

Barahatal - 6

Female

35

Kshetri

9868599890

20

Khagi sara khadka

Barahatal - 6

Female

23

Kshetri

9864808054

21

Hira khadaka budha

Barahatal - 6

Female

21

Kshetri

9866163628

22

Gitadevi b c

Barahatal - 6

Female

42

Kshetri

9868120771

23

Rewati sharma

Barahatal - 6

Female

45

Bramanar

9866643672

24

Darshana bc khatri

Barahatal - 6

Female

29

Kshetri

9864816424

25

Dammar devi sharma

Barahatal - 6

Female

45

Bramanar

9844855768

26

Durga rawat

Barahatal - 6

Female

32

Kshetri

9868012361