Three short course training opening ceremony at Kanchanpur
Created On: Jan. 10, 2022, 5:46 p.m.
More than 60% participants were females and they belong to ethnical community of nearby villages. The two trainings; Commercial vegetable production & Poultry production were planned to be conducted at school premise which began on 6th Jan 2021and the Mushroom cultivation training organized at community level (Krishnapur, Bichawa) commenced 1st Feb 2021. Project aimsthat trainees after the training will start their own business/ enterprise in the respective trained subject.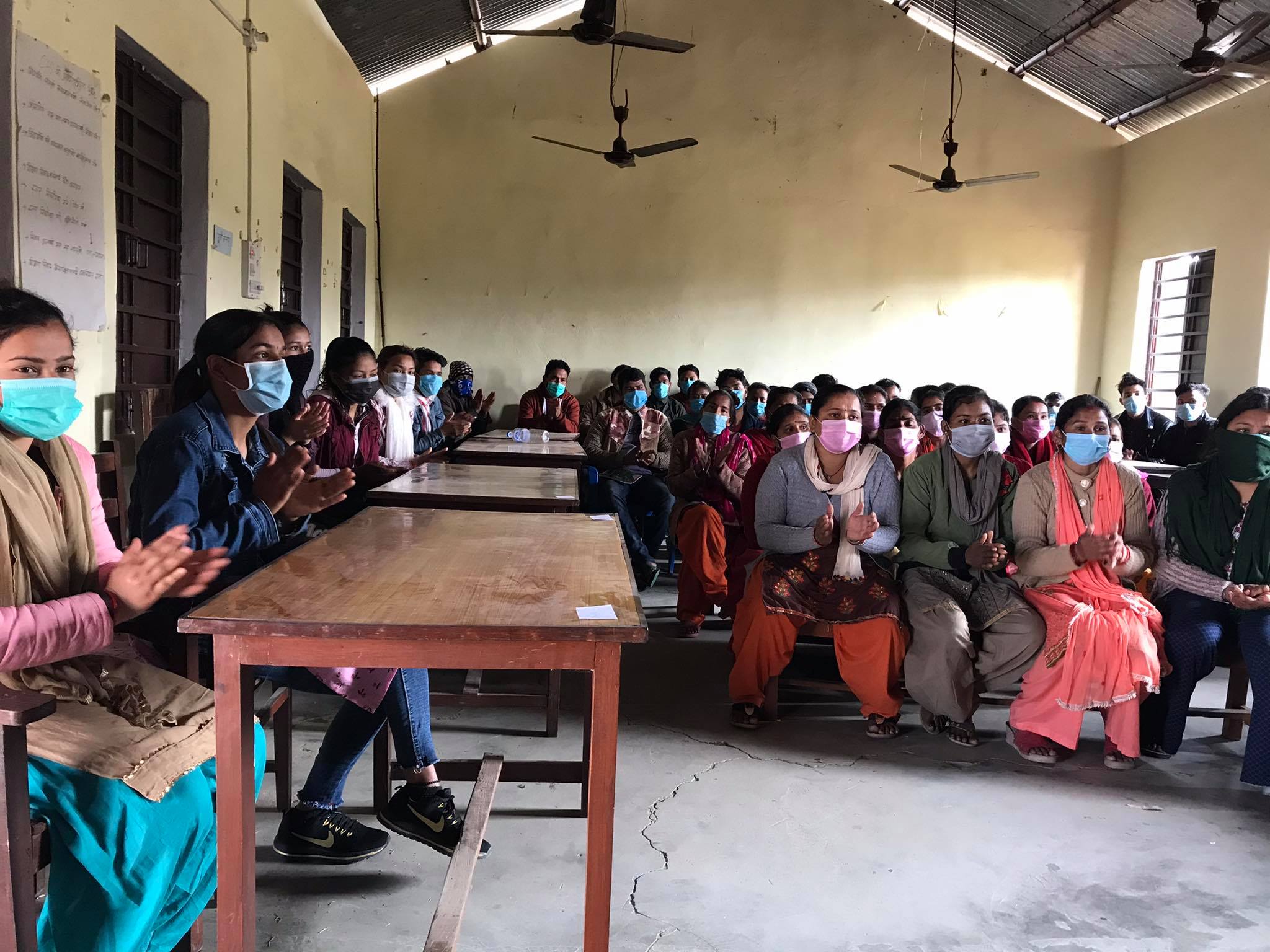 List of Trainee
SHREE KRISHNA SECONDARY SCHOOL

Krishnapur-04, Kanchanpur

Skill UP Project Short Term Training

Trade:- Commercial Vegetable Production (OVP)

Days:- 60 Days

Participants List

S.N.

Student Name

Address

Gender

Age

Cast

Contact

Remarks

1

Sarita Chaudhary

krishnapur-05, Gulariya

Female

22

Tharu

9811700546

2

Sarbjeet Rana

Belauri-09, Ratnapur

Male

20

Tharu

9810605829

3

Kalpana Chaudhary

krishnapur-05, Gulariya

Female

23

Tharu

9805783116

4

Kamala Ku. Dhami

krishnapur-04, Gulariya

Female

32

Chetri

9868452595

5

Sunita Bohara

krishnapur-04, Gulariya

Female

20

Chettri

9865846187

6

Dhirgha Raj Bhandari

krishnapur-04, Gulariya

Male

20

Bhramin

9865695193

7

Santu Chaudhary

Belaury-2 Kanchanpur

Male

21

Tharu

9865984899

8

Balram Chaudhary

krishnapur-05, Gulariya

Male

25

Tharu

9868451497

9

Damodar Chaudhary

krishnapur-06, kanchanpur

Male

26

Tharu

9806411713

10

Joyal Chaudhary

krishnapur-06, kanchanpur

Male

21

Tharu

9825639759

11

Anjali Chaudhary

krishnapur-06, kanchanpur

Female

21

Tharu

9810682632

12

Mina Chaudhary

krishnapur-05, kanchanpur

Female

22

Tharu

9805784854

13

Sunmaya Chaudhary

krishnapur-05, kanchanpur

Female

21

Tharu

9810672711

14

Tulsi Pant

Suklaphata-08, kanchanpur

Female

28

Bhramin

9848870094

15

Hemlata Pant

krishnapur-04, Gulariya

Female

18

Bhramin

9865873490

16

Laxmi Kumari Bohara

krishnapur-04, kanchanpur

Female

28

Chettri

9809455744

17

Poonam Ku. Bohara

Suda-02, Kanchanpur

Female

33

Chettri

9866102623

18

Ishwori Chaudhary

Godawari-01, Kailai

Female

19

Tharu

9844145947

9800606088

19

Muga Oad

krishnapur -04, Shantipur

Female

26

Dalit

20

Godawari Ku. Shah

krishnapur -05, Gulariya

Female

34

Chettri

9848723776

21

Laxmi Saud

Krishnapur-05, Kanchanpur

Female

30

Chettri

9866100352

22

Santi Kumari Bist

krishnapur-05, kanchanpur

Female

24

Chettri

9865921870

23

Laxmi Ku. Bhatta

krishnapur-05, kanchanpur

Female

33

Bhramin

9848780752

24

Durga Chauhan

krishnapur-04, kanchanpur

Female

30

Chettri

9810792419

25

Binod Rana

krishnapur-04, kanchanpur

Male

29

Tharu

9813036263

26

Dhan Singh Rana

krishnapur-07, kanchanpur

Male

22

Tharu

9822666299

27

Bina Chaudhary

krishnapur-05, kanchanpur

Female

29

Tharu

9806465624

28

Paras Malla

Godawari-04, Kailai

Male

19

Chettri

9864758826

29

Basanti Chaudhary

krishnapur-04, kanchanpur

Female

36

Tharu

9812700906

30

Janaki Devi Dhikta

krishnapur-05, kanchanpur

Female

39

Bhramin

9864664781