Training of Trainers for Lead Farmers to facilitate FFS in Salyan, Surkhet & Kanchanpur
Created On: April 25, 2021, 4:24 p.m.
Three events of 'Training for Trainers' (ToT) were organized by Skill Up! project to impart the knowledge on FFS facilitation skills, Nursery development, IPM methodology, Pest management, Disease Identification and control. Besides, participants were skilled to prepare Jhol Mal, Bokase Mal, EM-2 and its application as bio- pesticides and bio- fertilizers to the lead farmers of Salyan, Surkhet & Kanchanpur districts on February 2021. In the ToT of FFS 24 lead farmers of Salyan, 22 lead farmers of Surkhet and 20 farmers of Kanchanpur were participated on the 3 days' training session. ToT was scheduled both on Theoretical Practical sessions to deliver the quality information on SIFS (Sustainable Integrated farming System) approach FFS modality by PLA. Moreover, Health, Hygiene & Nutrition session, as an integral part of the SIFS also provided during ToT.
The main objective of the training was to strengthen the capacity of lead farmers to develop them as facilitator for their corresponding FFS groups so that they could assist their farmer groups to run FFS in effective way while the project team provides a regular guidance & technical support to run the FFS.
List of Participants
1. ToT participants (farmer Group Leader) of Salyan
Date: 22- 24th Feb, 2021
| | | | | | |
| --- | --- | --- | --- | --- | --- |
| S.N | Name | Group Name (FFS) | Address | Sex | Contact No. |
| 1 | Khima Chalaune | Mahadev FFS Group | Siddha Kumakh-01, Dhanetakura | Female | 9810926364 |
| 2 | Kabita Chalaune | Mahadev FFS Group | Siddha Kumakh-01, Dhanetakura | Female | 9848346004 |
| 3 | Bhawana DC | Taja Tarkari FFS Group | Baghchaur-02, Jiula | Female | 9806292466 |
| 4 | Dharma Raj DC | Taja Tarkari Group | Baghchaur-02, Jiula | Male | 9866170399 |
| 5 | Prem Bahadur Khatri | Sundar Bahudhyesse Group | Baghchaur-01, Sulimarey | Male | 9805292155 |
| 6 | Min Bahadur Basnet | Sundar Bahudhyesse Group | Baghchaur-01, Sulimarey | Male | 9809735113 |
| 7 | Binaya Bohora | Saraswoti FFS Group | Baghchaur-01, Thinbang | Male | 9860887383 |
| 8 | Devkali Bohora | Saraswoti FFS Group | Baghchaur-01, Thinbang | Female | 9812872373 |
| 9 | Indrakala Bhandari | Sagarmatha FFS Group | Baghchaur-03, Ratpahara | Female | 9810924909 |
| 10 | Nandakala Bhandari | Sagarmatha FFS Group | Baghchaur-03, Ratpahara | Female | 9804590861 |
| 11 | Ganga Dangi | Sadabahar Hariyali FFS Group | Baghchaur-08, Ranisalla | Female | 9809571592 |
| 12 | Gopal Chanda | Sadabahar Hariyali FFS Group | Baghchaur-08, Ranisalla | Male | 9809566947 |
| 13 | Resham Bhandari | Chetanshil FFS Group | Baghchaur-02, Baghchaur | Male | 9809862076 |
| 14 | Tika Bhandari | Chetanshil FFS Group | Baghchaur-02, Baghchaur | Female | 9822816367 |
| 15 | Tikaram Dangi | Hariyali FFS Group | Baghchaur-03, Tharachaur | Male | 9809577532 |
| 16 | Kopila DC | Hariyali FFS Group | Baghchaur-03, Tharachaur | Female | 9809768178 |
| 17 | Jit Bahadur Chalaune | Dynamic FFS Group | Siddhakumakh-02, Tribeni | Male | 9808701842 |
| 18 | Sunita Chalaune | Dynamic FFS Group | Siddhakumakh-02, Tribeni | Female | 9822951890 |
| 19 | Tulsi Kumar Chalaune | Jagriti FFS Group | Siddakumakh-01, Dhantakura | Male | 9810862936 |
| 20 | Durpata Budhathoki | Jagriti FFS Group | Siddakumakh-01, Dhantakura | Female | 9812850757 |
| 21 | Nanda Bhandari | Samabesi FFS Group | Baghchaur-03, Ratpahara | Female | 9823689152 |
| 22 | Bishnu Kali Bhandari | Samabesi FFS Group | Baghchaur-03, Ratpahara | Female | 9809751051 |
| 23 | Govinda Budhathoki | Ranipokhari FFS Group | Siddakumakh-02, Salghari | Female | 9809725751 |
| 24 | Radhika Budhathoki | Ranipokhari FFS Group | Siddakumakh-02, Salghari | Female | 9847840536 |
2. ToT participants (farmer Group Leader) of Surkhet
Date: 24- 26th Feb, 2021
| | | | | | |
| --- | --- | --- | --- | --- | --- |
| S.N | Name | Farmers' Group Name | Address | Sex | Contact No |
| 1 | Kamala Dangi | Nawadurga | Bheriganga-4, Muralikhola | Female | 9863125792 |
| 2 | Birma Khatri | Sunaulo | Bheriganga-11, Sadhikhola | Female | 9868151441 |
| 3 | Tulsiram Khadka | Pragatishil | Gurvakot-5, Thagleni | Male | 9841131817 |
| 4 | Prema Khatri | Hariyali | Gurvakot-5, Thagleni | Female | 9841431253 |
| 5 | Laxmi Poudel | Hattisude | Bheriganga-4, Hattisude | Female | 9868911259 |
| 6 | Khima Dhakal | Hattisude | Bheriganga-4, Hattisude | Female | 9848048910 |
| 7 | Chandra Kala Khatri | Laligurans | Bheriganga-11, Bargau | Female | 9812551312 |
| 8 | Dhana Budha | Laligurans | Bheriganga-11, Bargau | Male | 9824593928 |
| 9 | Bimala Khadka | Pragatishil | Gurvakot-5, Thagleni | Female | 9844894261 |
| 10 | Rim B. Giri | Bhanjyang | Bheriganga-4, Bhanjyang | Male | 9819574422 |
| 11 | Kamal Dangi | Sundar | Bheriganga-4, Baunchaur | Male | 9824544910 |
| 12 | Tika Khatri | Sundar | Bheriganga-4, Baunchaur | Female | 9800567347 |
| 13 | Dhan kumari Oli | Harrey | Bheriganga-4, Harrey | Female | 9800548409 |
| 14 | Prem Kala Khadka | Nawadurga | Bheriganga-4, Muralikhola | Female | 9826516761 |
| 15 | Bhumisara Khadka | Hariyali | Gurvakot-5, Thagleni | Female | 9868284072 |
| 16 | Puspa Khatri | Harrey | Bheriganga-4, Harrey | Female | 9800562677 |
| 17 | Narendra Kishore Oli | Bhagawati | Bheriganga-5, Tolikhola | Male | 9848119761 |
| 18 | Ratna B. Rokaya | Tadi | Lekbesi-4, Tadi | Male | 9868235654 |
| 19 | Ratan Singh Khadka | Tadi | Lekbesi-4, Tadi | Male | 9848119284 |
| 20 | Ganesh Oli | Sunaulo | Bheriganga-11, Sadhikhola | Male | 9844872365 |
| 21 | Chandra Nepali | Bhagawati | Bheriganga-5, Tolikhola | Female | 9848288052 |
| 22 | Ganga Kumari Oli | Bhanjyang | Bheriganga-4, Bhanjyang | Female | 9848388933 |
3. ToT participants (farmer Group Leader) of Kanchanpur
Date: 9- 11th Feb, 2021
| | | | | | |
| --- | --- | --- | --- | --- | --- |
| S.N | Name | Farmers' Group Name | Address | Sex | Contact No. |
| 1 | Mina Chaudhary | Sayapatri | Rajghat-8, Krishnapur | Female | 9814662805 |
| 2 | Maya Chaudhary | Sunsari | Rajghat-8, Krishnapur | Female | 9823535466 |
| 3 | Laxmi Rana | Mayura | Kaluwapur-7, Krishnapur | Female | 9812649880 |
| 4 | Laliya Rana | Sayapatri | Kaluwapur-7, Krishnapur | Female | 9821623580 |
| 5 | Parbati Devi Bogati | Tedi Maharaj | Mauriphata-6, Krishnapur | Female | 9809434991 |
| 6 | Himanto Rana | Sayapatri | Kaluwapur-7, Krishnapur | Female | 9825667008 |
| 7 | Raj Kumari Chaudhary | Sayapatri | Rajghat-8, Krishnapur | Female | 9814641587 |
| 8 | Kailaswara Rana | Mayura | Kaluwapur-7, Krishnapur | Female | 9842234964 |
| 9 | Tara Devi Ojha | Tedi Maharaj | Mauriphata-6, Krishnapur | Female | 9811658478 |
| 10 | Rita Chaudhary | Sunsari | Rajghat-8, Krishnapur | Female | 9815624932 |
| 11 | Nirmala Chaudhary | Ugratara | Matayakatan-7, Krishnapur | Female | 9800629330 |
| 12 | Roshani Rana | Himal | Kaluwapur-7, Krishnapur | Female | 9800608770 |
| 13 | Sita Chaudhary | Laganshil | Majgai-8, Krishnapur | Female | 9812654933 |
| 14 | Shanti Chaudhary | Samunnati | Rajghat-8, Krishnapur | Female | 9812691796 |
| 15 | Shanti Chaudhary | Banjariya | Banjariya-6, Krishnapur | Female | 9809490468 |
| 16 | Maya Devi Bhatta | Ugratara | Matayakatan-7, Krishnapur | Female | 9804654144 |
| 17 | Bipana Chaudhary | Samunnati | Rajghat-8, Krishnapur | Female | 9814692013 |
| 18 | Krishni Chaudhary | Laganshil | Majgai-8, Krishnapur | Female | 9812661688 |
| 19 | Samjhana Chaudhary | Himal | Kaluwapur-7, Krishnapur | Female | 9865566679 |
| 20 | Sita Chaudhary | Banjariya | Banjariya-6, Krishnapur | Female | 9749029276 |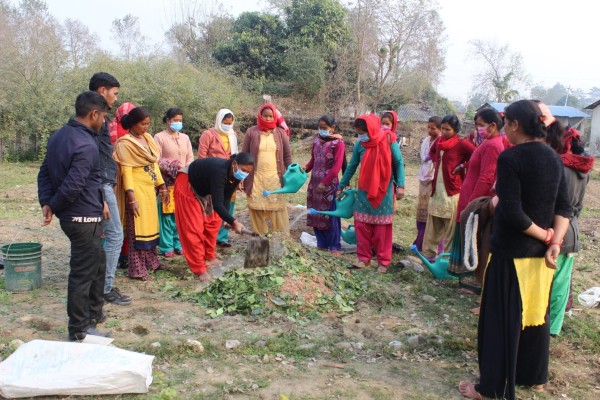 Figure 1: Practical session on preparation of organic fertilizer "Bokase Mal" during FFS TOT, Kanchanpur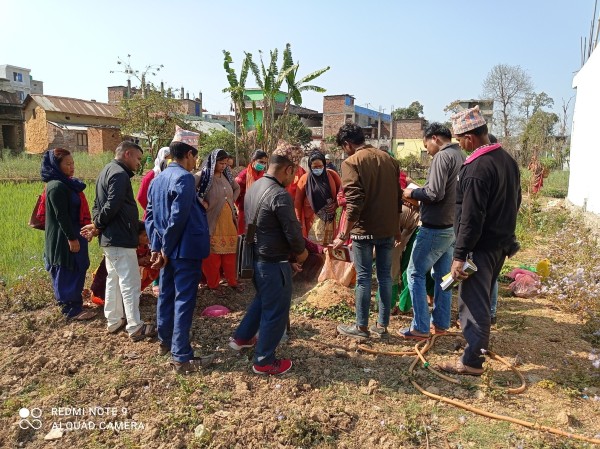 Figure 2: Practical Session for FFS ToT on preparation of organic fertilizer " Bokasi Mal", Surkhet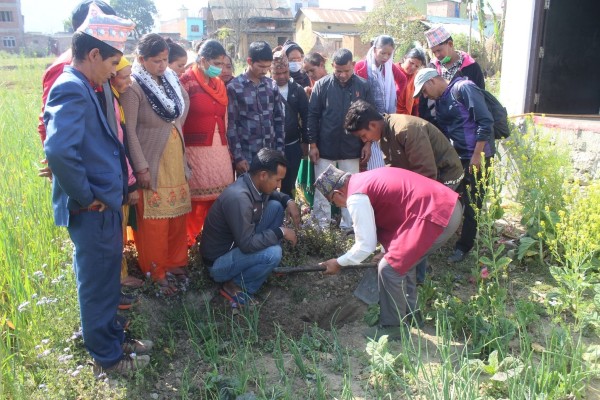 Figure 3: Practical session for FFS ToT on soil testing methodology, Surkhet