Shree Jana Jyoti High School
Baddichaur, Barahtal Rural Municipality, Surkhet
Background
Shree Jan Jyoti Secondary School was established on 2029 B.S, is located at Baddichaur of Barahtal Rural Municipality in Surkhet. The school is affiliated with National Examination Board (NEB) and offers plus two (10+2) programs. The School also offers different programs (short courses, 18 months & 3 years program) on Agriculture & Veterinary (Livestock) science affiliation with CTEVT.
Teaching Methodology
Technical faculty of the school uses a concept of "Earn & Study" to promote entrepreneurship mind-set among the students. School provides Rs. 5000 as seed grant hence after, student will pay back the amount with the income of his/ her business. The profit/ loss remains within the student. School is also seeking a close collaboration on the concept of "No Bare Land" by Local Government.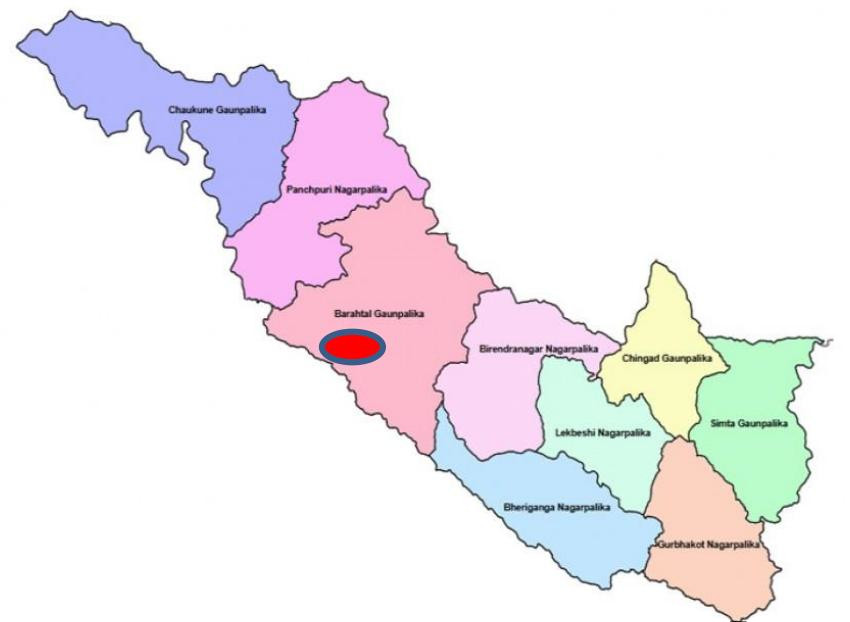 The School owns a tractor (Plough), cow shed, poultry shed, Green/ plastic house, Goat Farm, fish pond, Mushroom yard where students can learn practically. In addition to acquire more practical knowledge, school has adopted a big fish pond in a land of 3 bigaha. Cows, Pig, Laukat, Rabbit, Duck, paddy, Chicken were producing within the land. Where student works themselves, learns practically and earns.
Physical Facilities
No of buildings: 6
No. of classroom: 45
Number of computers: 40 desktop + 3 laptop
Internet facility: Available
Number and types of labs: Physics-1, Chemistry-1, Biology-1, Veterinary-1, Agriculture-1
Land area: 13.5 Ha
Use of land: Agriculture practical field, fish farm, goat farm, fruit Cultivation, fodder and grass.
Specific Information
Year of affiliation with CTEVT:
Ag-JTA – 2067
Vet-JTA and Diploma Ag- 2071
Diploma vet- 2073
Faculties of Technical education (types/duration/students number etc)
Ag-JTA(pre-diploma)- 18 months- 40(36 full paying+3 full scholarship from CTEVT+1 scholarship by school for entrance topper)
Vet-JTA(pre-diploma)- 18 months- 40(36 full paying+3 full scholarship from CTEVT +1 scholarship by school for entrance topper)
Diploma in Agriculture - 3 years- 40(36 full paying+3 full scholarship from CTEVT +1 scholarship by school for entrance topper)
Diploma in Veterinary- 3 years - 40(36 full paying+3 full scholarship from CTEVT +1 scholarship by school for entrance topper)
Fee structures= JTA= 55,000/- Diploma= 2, 05,000/-
Facilities to students
Scholarships: Available
Training materials: Available
Lab facilities: Available (need improvement)
Internship: Available
Mentoring after training: Not Enough
Residential: Not Available
Human Resource & Practical Labs
School has two separate and equipped labs for Agriculture & Veterinary faculty. Total Instructor/ Teacher are 8 providing their services for Agriculture faculty,
B. Sc Ag 4
M. Sc Ag (Running) -1
B.V. Sc -2
I. SC Ag, -1