Shree Shivajan High School
Sarada Municipality, Salyan
Karnali Province
General Information
Shree Shivajan Secondary School is a public school in Salyan. The school was established on BS. 2016, 11 Jestha. It is located in Sharada Municipality-1, Shitalpati. School runs CTEVT courses, TSLC and general courses upto class 12. School offers Agriculture, Forestry, Management, Education and Humanities faculty to the students.
Physical facilities:
School consists 40 classrooms in total and 11 buildings. School has 33 ropani land including practical area and school premises. School has established 5 different labs for Computer, Science, and Agriculture for practical. Total 31 teachers have been engaging in full/ part time whereas 10 more staffs are in administrative function.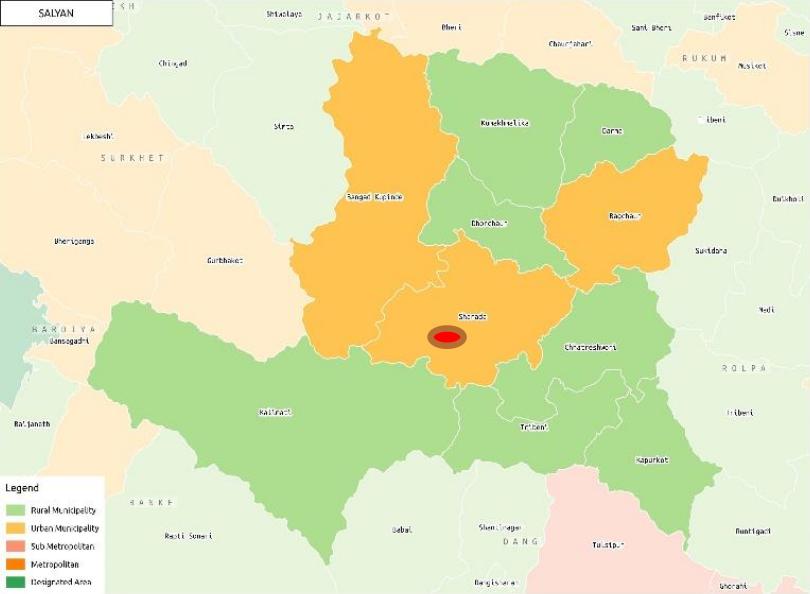 Specific information
Year of affiliation with CTEVT: BS. 2069
Faculties of Technical education (types/duration/students number etc.)
Diploma in Agriculture- 3 years - 120 seats.
Diploma in Forestry- 3 years - 31 seats
TSLC animal and plant science - 18 month - 40 seats each
Fee structure/ Source of Revenue
Diploma course- Rs 1, 80,000/-
TSLC- 50, 000/-
Physical facilities for technical training:
Class rooms – 4
Lab for training- 5
Land for Practical training – 8 ropani
Sports materials- volleyball, football, Badminton
Equipment and tools for practical- available for every students
Facilities to students
Scholarships- 3 students from CTEVT Scholarship and 1 for class topper in every class of diploma level and a single scholarship for entrance topper in TSLC level.
Training materials- sufficient for every student
Lab facilities - sufficient for every student
Internship- 3 month for Diploma level and 6 month for TSLC level
Mentoring after training - 2-3 times
Residential- not available
Follow-up mechanism (after the training is completed) – Occasional Home/ Person to person Visit to Students by Teachers which is not regular.
Human resource for Vocational Trainings
| SN | Position | Qualification | Number of Teachers | Remarks |
| --- | --- | --- | --- | --- |
| 1 | Principal | Masters in English | 1 | Overall management of Technical Programs |
| 2 | Program Coordinator | M.Sc.Ag. | 1 | Faculty Coordination and Administrative Management |
| 3 | Instructors | B.Sc.Ag. | 1 | Conduct theory & practical classes |
| 4 | Lab Facilitators | I.Sc.Ag/Diploma | 1 | Support in laboratory work |
| 5 | Assistants | TSLC/JTA | 1 | Support in lab/ field work |